As the crude oil price is increasing stably, the numbers of active drilling rigs is on a rise, too. Among which, quite a lot are offshore rigs working on offshore platforms. Under the oceans, the crude oil reservation is remarkable, and lots of oil companies are joining to the offshore drilling industry. In order to take into consideration of environment protection purpose while drilling, the drilling mud shall be treated in time and to leave the waste to the least.
GN Solids Control has been providing offshore drilling companies for years with the high quality and compact designed mud recycling system. Here is information of a recent project: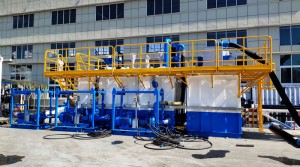 1. In this project, the main equipment is shale shaker. Shale shakers are most important for a drilling mud system, which remove most solids particles from the recycled drilling mud. GN has different models of shale shakers, from the mini shale shaker with 2 pcs of screens to the double deck shale shaker with 2 layers holding 6 pcs of shaker screens. Each shale shaker is equipped with 2 vibrating motors, with total power less than 4kw. And the feeding for shale shaker is easy cause the mud flows directly from drilling. There is even no need for an extra pump.
2. Mud tanks are another main component for this system. They are used to receive the clean mud for next cycling. By using the jet mud mixer along with the tanks, the new chemicals can be added into the mud system.
It is clear that there are no desander or desilter cones in this system, for one thing, comparing with shale shakers, the desanding or desilter cyclones are less efficient. For the other, both desander and desilter cones need large power centrifugal pumps for feeding.
In this case, the client can collect the drilling solids waste to a vertical cuttings dryer or decanter centrifuge for drying before discharge. And also the drilling fluids can be retreated by decanter centrifuge when there are fine particles in the fluids after several cycles.
For more information, welcome to contact GN directly.