Decanter centrifuges are widely used in various drilling industries for the separation of solids and liquid, including the oil and gas drilling, geothermal drilling, diamond drilling and pipe jacking. Based on different requested drilling capacities, there are different sizes of centrifuges for option. This time, for this European customer, GN provided a decanter centrifuge of 9 inch diameter bowl, which is the smallest model among GN Centrifuges.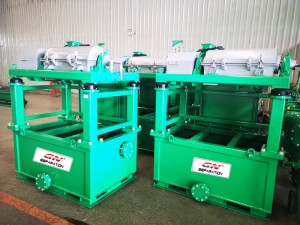 1. GNLW223 Decanter centrifuge. It is also called a baby centrifuge among all GN centrifuge models. The length diameter ratio is 3, which is a typical value for drilling mud separation works. The largest RPM it can reach is 4500RPM, and it can efficiently remove all the particles from 2 to 5 microns.
2. Applications of GNLW223 decanter centrifuge. GNLW 223 decanter centrifuge is small but popular. It is widely used among GN clients in diamond drilling projects, geothermal well's drilling, HDD projects and animal waste treatment. It is a compact model especially in North America and Europe.
3. Special design for this batch of GNLW223 decanter centrifuges. When the centrifuge is put into use, it should be put on a certain height in order to discharge the liquid and solids. That's why there is always a skid, sometimes telescopic, under the decanter centrifuge. For this batch of decanter centrifuges, GN designed a small tank below the centrifuge, together with half height as the standing frame. The small tank could be a catch tank for holding the discharge liquid. While transportation the solids discharge chute can be folded between the tank and centrifuge. The tank is open top for easy observation and to clean. Near to the bottom, there is a port as drain port.
For more information, welcome to contact GN Separation directly.