In the past years, the sludge treatment works are becoming more and more important because of the focusing on the environment protection. The environment protection in this field includes how to make the sludge less polluted before safely discharge. That's why the efficient solutions for such sludge become more and more popular.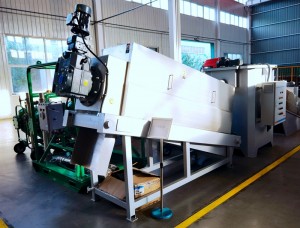 1. Screw press sludge dewatering:
Screw press sludge dewatering machines are coming more and more welcomed to clients. Screw press dewatering is a kind of economic choice which is also quite environmentally friendly. The working principle is just like when you are twisting a wet towel. The motor will generate a strong force for squeezing the wet sludge by changing the screw diameter and screw pitches. The tiny gaps between floating ring and fix ring will do the squeezing work, to leave the sludge into liquid and cakes. Comparing with other separating equipment, the screw press dewatering machines don't need chemicals and will sure leave less contamination to the surroundings.
In a recent project, an ES Company purchased from GN Solids Control such a screw press dewatering and a vacuum pump.
A vacuum pump is also called a solids vacuum pump, which allows in material with high solids content, even dry sand, just to make sure that the material largest particle size is within the limit as pump inlet diameter.
The solids vacuum pump can transfer the material to more than 50 meter away. It is fully air driven, no need for consumption of electricity itself. That's why it can be located at Explosive conditions by being linked to an air compressor.
Based on your jobsite condition, GN Solids Control can offer customized designs with rich experiences and professional engineer team. For more information, welcome to contact GN sales team directly.