Liquid mud plant is also called LMP, which is used for preparing, storage and treatment of the drilling mud. In a complete liquid mud plant, there should be 3 mainly drilling mud tanks for different purpose: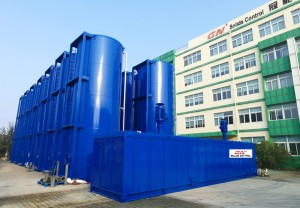 1. Mixing Tank.
Mixing tanks are always cuboid shaped mud tanks equipped by mud mixing hoppers. Those hoppers are always Venturi hoppers linked to centrifugal pumps. When pump is sucking mud from one compartment to another, and when mud is passing the Venturi hopper, there will be a sucking force to suck in the chemicals from the hopper.
Mixing tanks have mud agitators and mud guns, too, for stirring up the mud in order to prevent settling down. Meanwhile, there are also pumps for transferring the prepared mud from mixing tank to others.
2. Treating tanks.
When used mud is delivered to the liquid mud plant, the dirty mud shall be treated by separation equipment in order to remove the particles and to be returned to the storage tanks. The separation equipment are mainly shale shakers and decanter centrifuges, and when there are extra fine particles, there should be chemical dosing for flocculating.
3. Storage tanks.
Storage tanks are not complicated in pipelines and always using single guardrails. There are no divided compartments inside a storage tank and the most commonly used equipment are mud agitators and mud guns. Both mud agitators and mud guns are used continuously for stirring the drilling mud from being settled down to the tank bottom. Clean mud will be safely storage in those tanks.
GN Solids Control has 2 kinds of storage tanks available, the cuboid shaped ones and the cylinderic ones, each type has its own advantages.
If you have such project or tender, welcome to contact GN team for consultancy or quotation.