In a drilling rig solids control system, there are at least 3 steps for separation, the shale shaker, the desander cones and desilter cones. And there is a machine as a combination of desander and desilter, which is called a mud cleaner. Comparing with such designs as a single desander plus a single desilter, the mud cleaner occupies a much smaller footprint. Meanwhile, by sharing one drying shaker, the mud cleaner is less power consumable.
Just 2 weeks ago, GN Solids Control has provided to a drilling company in China with 3 sets of mud cleaners, with same model GNZJ594F-3S16N. Each mud cleaner of this model can serve a 1500GPM treating capacity, which is suitable for a large horsepower drilling rig. So the totally 3 mud cleaners are quite probably to be allocated to 3 drilling solids control systems.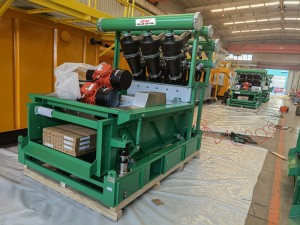 Main Specifications of GNZJ594F-3S16N:
1. GNZJ594F: it is a shaker model among GN shale shakers, it is equipped by 2 vibrating motors each of 1.72kw power. The shaker is equipped by 4 pieces of shaker screens, with a total screen area of 2.73 square meters. The shaker deck is quite strong and uses good sealing in order to prevent leakage. The shaker deck angle can be adjusted during operating for achieving a good performance.
2. Shaker screens. The shaker screens on the shale shakers are made by GN Solids Control, too. GN shale shakers are fully in compliance with API RP 13C, with same screen dimension, the non-blanked area and conductance are both comparably larger.
3. Desander and desilters. GN chooses polyurethane desander and desilter cyclones for longer service life. Desander cyclones are of 10 inch diameter for the 40 microns cutting point, and desilter cyclones are of 4 inch diameter for 20 micron cutting point.
For different jobsite conditions, GN has other optional mud cleaner models. Please contact GN sales team for more information.