GN Separation is a brand under GN Solids Control, which is a well-known brand for providing solutions for separation and conveying, and also an equipment manufacturer for separation and conveying. Decanter centrifuge is one of GN separation's core products, and they are quite popular for many different applications involving separating works like oily sludge treatment, sewage water treatment, fruit and juice treatment, beverage treatment, edible oil and syrup treatment, animal waste disposal and etc.
Recently, GN Separation has fabricated a decanter centrifuge for an overseas client whose work is for glucose syrup clarification. This centrifuge's model is GNLW554-VFD, with following specifications and features:
1. Big bowl centrifuge with a bowl diameter of 550mm, which equals to 22 inch. And the bowl length is 2310mm, equal to 91 inch.
2. High speed centrifuge, with bowl speed up to 3150RPM, generating a max G force to 3051G.
3. GNLW554 decanter centrifuge has a length-diameter ratio of 4.2,which is large enough for a enough time for clean treatment.
4. A VFD control panel is included in the centrifuge supply, which is equipped with three VFD's respectively for the main motor, back motor and the feeding pump.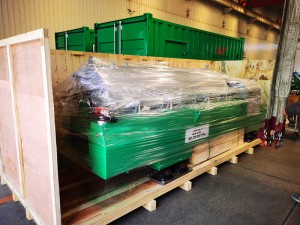 Other features especially for this order:
1. This GNLW554 Decanter Centrifuge's bowl and propeller are made of SS2205 duplex stainless steel and the collection box is made of SS316L.
2. Centrifuge's propeller's blades are polished, instead of bead weld or tiles in order to meet the special requests for food industry.
3. Sealing parts for this centrifuge are made of flororubber.
GN Separation has an engineer team with totally 60+ years of experiences in centrifuge research and development. Based on different applications and material condition, GN Separation's engineer team can suggest different material for centrifuge components and also designed with different beach angles.
Welcome to contact GN for consultancy.