GN Separation is a brand under GN Group, under the company of GN Separation Equipment Co., Ltd and GN Separation is also establishing its branch office in Houston, USA, to service for its clinets from North and South America. Recently, GN Separation has attended the CONEXPO 2023 which was held in Las Vegas.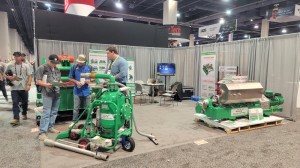 For this CONEXPO 2023, GN has brought following equipment:
1. Linear motion shale shaker. Shale shaker is a vital equipment for physical separation works for various applications. GN has a full range of shale shakers from 2 pieces of shaker screens to 6 pieces of shaker screens for matching the different requested capacities. Cause the shale shakers' performance are always affected by shaker screens, GN is strict and serious with shaker screens, too. And GN has built a factory especially for shaker screens.
2. Decanter centrifuge. Decanter centrifuge is also an efficient equipment for separation works after the shale shaker. If the shale shaker's advantage is to remove the most particles, the function of the decanter centrifuge is to make the solids dryer and liquid clearer. Decanter centrifuge is a vivid show for a manufacturer's producing ability.
3. Solids vacuum pump. This is a powerful pump which can handle solids particles as sands and small stones as long as they have some liquidate. GN has several solids pump models for option based on different capacities.
GN has a facility located close to Beijing International Airport, adjacent the capital of China. In a same industry zone, there are GN No. 1 factory and No. 2 factory, the office building is located in the 1st factory of GN, and this factory yard is used mainly for building tanks, shale shakers, mud cleaners and etc. The 2nd factory is equipped with more advanced equipment like the five facets producing machine and dynamic balancing machines for rotating parts, especially for the decanter centrifuges and cutting robots and welding robots for shaker screens. The 3rd factory is newly constructed, which is equipped with most advanced facilities for equipment manufacturing for cutting, welding and painting. And the size of the 3rd factory is 8000 square meters which is larger than the first 2 together.