WEFTEC 2021 was successfully held in America and it attracted quite a lot professional visitors. Among water treatment, an efficient separation is non-doubt an important procedure. GN Solids America has participated in the exhibition and brought to the event 2 compact but handy machines: GNLW224ET decanter centrifuge and GNSP-20B vacuum pump.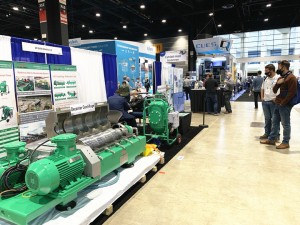 GNLW is the model GN Solids Control and GN Solids America name their decanter centrifuges, they are 2 phase decanter centrifuges designed with high speed rotation ability. In the code GNLW224, 22 shows the bowl diameter which is 22 inch and the 4 means the bowl length and diameter ratio. The 4 ratio is larger than 3. For each centrifuge size, GN has both 3 and 4 available. Among the whole GN centrifuge models, there are GNLW363 and GNLW364 decanter centrifuge with 14 inch diameter bowls, GNLW452, GNLW453 and GNLW454 with 18 inch bowl diameter, GNLW553 and GNLW554 with 18 inch bowl and GNLW764 with 30 inch huge bowl.
GNSP-20P is a middle sized vacuum pump. Vacuum pump is also called solids pump because of its high ability for allowing large particles. Unless other pumps, the solids pumps can handle even dry material like sand and small stones. The only size limit is the pipeline size. And by using only compressed air as driven force, those vacuum pumps don't need electricity. They can be used in Explosive Proof conditions for CNEX, IECEX and ATEX. There are mainly 3 models of GNSP vacuum pumps, the largest one is GNSP-40B with capacity 40cbm per hour, and the other 2 models are respectively 20 cbm per hour and 10 cbm per hour, the 2 smaller models are equipped by wheels for flexible use.
GN Solids America is located in Houston, TX in USA, with warehouse and stock for main equipment. Welcome to visit GN Team there.