As leading manufacturer for drilling mud solids control and drilling sludge treatment equipment and a professional solution provider, GN Solids Control has designed and put into reality a complete system for both mud recovery and slurry treatment which is suitable for for mud preparation, mud recovery and clarification, mud weight control, mud storage until slurry treatment in horizontal drilling and pipe jacking industries. This system is combined by following components: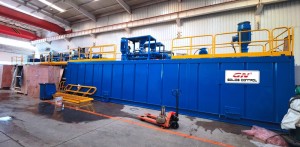 1. Mud tanks: This systme is equipped by several mud tank skids with effective tank volume≥25m³. They are suitable for transportatiaon inside containers and being lifted at jobsite.
2. Shale shakers. A single shale shaker's designed capacity is larger than 120m³/h, with vibrating motors with total power 3.44KW. Each system has 2 or 3 shale shakers depended by the requested capacity. The shakers are well sealed and easy for changing screens and spare parts. During transportation, the shakers are to be removed from tank and to be shipped inside container.
3. Mud cleaner: Mud cleaner is a combination of both desander and desilter. The capacity of desander and desilter are in complianc with the total system's request and achieved by certain quantity of cyclones. Both desander and desilter share the same drying screen on below, with screen area of 2.63 square meters. Total power 3.44kw.
4. Decanter centrifuge: there is a big bowl decanter centrifuge located after the desilter cones. The cutting point of decanter centrifuge is 2 to 5 microns, which is suitable for remove the fine particles from the drilling mud. In this system, there are big bowl centrifuges adopted, with 18 or 22 inch bowl diameter.
5. Chemical dosing system: in case there are extra fine particles in the drilling mud, we have to invite a chemical dosing system with polymer injected into the drilling fluids in order to flocculate the extra particles to be within the centrifuge's treating range. The chemical dosing system is designed inside a 20 ft container for easy transportation and layout.
6. Jet mud mixing unit: a jet mud mixing unit is used in this system for prepare new mud by adding drilling chemicals into the clarified driling mud.
Welcome to consult with GN team for more information.