As long as the equipment is used for projects which involve separating works, there are something in common. For example, the drilling projects need to treat the slurry by removing the particles, and for mining projects there are vibrating screens used for collect certain particles with correct sizes. As a leading manufacturer and solution provider in separating works, GN Separation is able to suggest clients the most suitable equipment or system.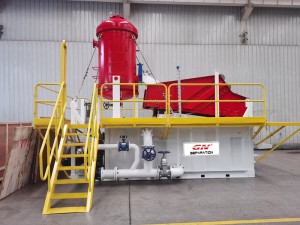 Just recently, GN Separation has finished the manufacturing for a vibrating screen system for a core drilling fluid cleaning project in domestic China. And the main equipment is a linear motion vibrating screen which was designed for mining. This machine, together with some other equipment, were used for core drilling fluids cleaning, including following:
1. Mining vibrating screen GNLMP 1224. It is a self-designed equipment with screen size nearly 3 square meters. GN has an advanced facility with cutting, welding and painting procedures. All side walls of the vibrating screen is made of a whole plates without any welding in order to ensure the strength. All screens are screen panels made of polyurethane and service life is longer than 6 months.
2. Customized mud gas separator. It is originally an equipment used in oil and gas drilling, for removing the gas from the drilling fluids. In fact, in other drilling works, there is some gas in the fluids shall be removed. This equipment is customized based on oil and gas mud gas separator, suitable for the core drilling.
3. Centrifugal pump GNSB6X5j-370c and collection tank. Centrifugal pump is anther core product of GN Separation for different applications. Also, GN has other pumps and conveyors available.
For more technical information or commercial information, welcome to contact GN team freely or visit GN factory.