The year 2022 now comes into the last month, and GN factory is still fully scheduled with new orders from all over the world. Recently, GN just finished the manufacturing for a batch of double deck shale shakers for oil and gas solids control for an European client.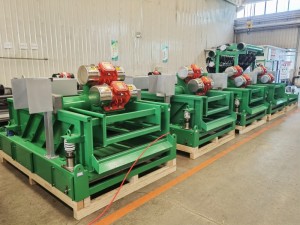 GNZS706 double deck shale shaker has following features:
1. The shaker model is GNZS706, which means there are totally 6 pieces of shaker screens on the shaker. 3 pieces of screens are mounted on the upper deck, with a total screen area of 2.0 square meters and the lower deck also has 3 pieces of shaker screens with a total screen area of 2.6 square meters. Total screen area is 4.6 square meters.
2. Working principle of the double deck shaker: the upper deck of shaker is equipped with coarse screens as the 1st step separation and the lower deck we use comparably finer screens. In this way, the treating capacity is increased and the screen mesh is better protected for longer life.
3. GNZS706 double deck shaker has the quick pressing device for changing shaker screens easily and quickly. And such device is quite durable for performance. This function highly facilitates the operators when changing shaker screens.
4. GNLW706 double deck shaker uses 2 sets of vibrating motors which generate a linear motional high G force. It is suitable for both land rigs and offshore projects.
5. The shaker screens used on GNZS 706 Shale shakers are also made by GN Solids Control. GN Solids Control has a separate shaker screen factory with robot cutting and welding, producing high quality shaker screens.
Other famous solids control brands also have double deck shakers available, for example, VSM 300 from NOV Brandt is quite a popular model in Europe. Client for this order is buying GNZS706 for replace the existing VSM 300. GN Solids Control also has single deck shale shaker models, with 2 or 3 or 4 pieces of screens. For more information, welcome to contact GN direcdtly.