There was a big day in last week for both GN and GN's client who purchased such a big liquid mud plant, cause all those 70 units of mud tanks were transported to the loading port from GN factory located near Beijing City. It was the repeated order from the client since he issued a trial purchase of 15 sets of tanks in last year. He was happy to see the high quality from a responsible manufacturer.
This client's business is in field of drilling fluids service, by collecting the used drilling fluids, recycling the useful portions and getting the fluids to be well prepared for new projects. He has a huge space for storage and in need of huge mud tanks and necessary equipment for separation. GN Solids Control provides him a turn-key solution with following equipment: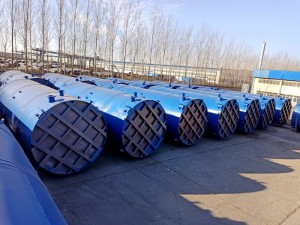 1. For drilling fluids separation: client chose 3 main equipment from GN product gallery for his drilling fluids separation: GNZS594 shale shaker, GNLW452D middle speed centrifuge and GNLW363C high speed centrifuge. GNZS594 is a linear motional shale shaker with 4 pieces of shaker screens. GNLW452 is a big bowl centrifuge with middle speed, that is used for barite recovery or to choose out the particles between 5 to seven microns. And the high speed centrifuge with a rotation speed upto 3900RPM, it is for fine and extra fine particles from 2 to 5 microns.
2. If the separation equipment are used for moving out, the mixing units could be regarded the facilities for adding in. This system contains 4 sets of mud mixing hoppers with jet mud mixing centrifugal pumps for adding in the useful chemicals when preparing the drilling fluids.
3. Mud tanks for storage with a total volume 35000 bbl.
Welcome to contact Renee@gnsolidscontrol.co directly for more information.