When talking about oil and gas drilling, there is one type of equipment we can never by-pass, which is shale shaker. Shale shaker is located at the first place of a complete solids control system. GN Solids Control has just finished the manufacturing for some dual motion shale shakers for an offshore drilling company.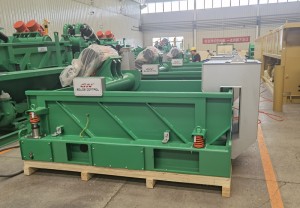 1. Dual motional shakers. According to the motional type of the shale shaker, the shale shaker could be divided into several types: linear motional, oval motional and dual motional one, as the model GN just provided to this offshore drilling company. This motional means the motion route of the drilling cuttings on the shaker screens during operation, which determines the time the cuttings spend on screens and the positions they fall on screens. GN Solids Control has also linear motional shakers available.
2. GN shaker models. GN Solids Control has various shaker models for option based on different treating capacities, including mini shaker with 2 shaker screens GNZS752F shale shaker, the normal shakers with 3 or 4 pieces of screens, GNZS703F and GNZS594F, with screen size as 2.63m2 and 2,73m2, and double deck shale shaker GNZS706F which can use 2 different screen API's, the coarse ones on top deck while fine ones on bottom deck in order to achieve a larger capacity.
3. GN High-G shakers. Besides the normal shale shakers used for drilling rig solids control purpose, GN Solids Control also has High G drying shakers available. The high-G drying shakers are used for treating the drilling cuttings collected from the shakers' discharged material, mainly for water based mud. For the high-G models, GN has models based on GNZS703 and GNZS594, and the vibrating G force can reach upto 8.5. For the similar purpose, the drilling cuttings treatment, GN has GNCD930 vertical cuttings dryer for oil based mud and SBM
For more information, please contact GN directly.