When you talk about something mini, what do you think? For example, a mini iphone 13, what image do you think? Yes, of course, a mini something means the same function with a more compact structure, a portable one or at least more flexible one. Have you ever considered a mini solids vacuum pump or a mini decanter centrifuge? In fact, just days ago, GN has supplied to an international customer such equipment, both in mini sizes, a vacuum pump and a decanter centrifuge.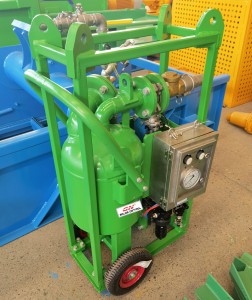 1. Solids vacuum pump. A solids vacuum pump is a quite powerful pump which is used for transferring medium with large particles. It is widely used in many different applications and places because of those features: first, it allows material with quite large particles with only limit as the pump's pipeline diameter. Second, it can transfer to a quite large distance, for example, a small pump can transfer water to 500 meters away horizontally, and a large pump of 40cbm per hour, can even transfer water to 1000 meters away. Thirdly, it is suitable for different Explosive Proof conditions cause it is not driven by electricity.
A mini vacuum pump is equipped by wheels and a handle, which is flexible to be used for tank bottom cleaning by insert its inlet pipe into the tank.
2. Decanter centrifuge. Decanter centrifuges are quite efficient machines used for separating the solids particles from liquid thoroughly. The cutting point is determined by the bowl rotating speed. A middle speed decanter centrifuge can separate particles from 5 to 7 microns while a high speed one can remove particles from 2 to five microns. The decanter centrifuges' capacity depends on the centrifuge size, especially the bowl diameter. The larger diameter it has, the larger capacity it can handle. A mini decanter centrifuge in GN equipment range is a 9 inch diameter one, and GN has all popular models available, such as 14 inch, 18 inch, 22 inch and even 30 inch.
This client who purchased both mini vacuum pump and mini centrifuge is planning to use those equipment for tank cleaning, respectively for pumping out and treating of the sludge.